BY ROBERT MEDLEY- Published: November 13, 2008 (newsok.com)An uprising in white supremacist activities in the state appears to be inspired by the recent presidential election, an expert on domestic terrorism said Wednesday.
Featured Video
Hate group propaganda on the Rise after the Election of Barack Obama -
Nov 13 An Oklahoma Highway Patrol official says yes.

Lt. Gary Thornberry, an Oklahoma Highway Patrol trooper and member of an FBI joint terrorism task force, said President-elect Barack Obama's sweeping election victory has spawned a new round of hate in the state. Terrorism experts are monitoring groups such as the Ku Klux Klan in response.Thornberry spoke on the Oklahoma City University campus during a day-long conference on violent crime and terrorism sponsored by the OCU Department of Sociology and Justice Studies and the FBI. Thornberry told about 100 people who attended that there has been a recent increase in racist activity in Oklahoma. In a video interview with The Oklahoman after his presentation, Thornberry elaborated. "I would say we're seeing an uprise in propaganda by right-wing, hate ... groups," Thornberry said Wednesday. "We've seen more propaganda passed out by groups such as the Ku Klux Klan. We think that (Obama's victory) is potentially part of the reason we're seeing that type of propaganda." Thornberry said law officers have taken note of fliers allegedly circulated by Klansmen in Pontotoc and Lincoln counties.
Feeling threatened
"I think some of these groups are threatened by the election results and they're trying to build themselves back up," Thornberry said. Police officers on the streets and sheriff's deputies across the state, as well as residents, are the best source of information for preventing hate and terrorist activity, Thornberry said. "Oklahomans should continue to be vigilant," he said. "Oklahomans are very good at calling and reporting information that is suspicious." Thornberry said anyone with information about suspicious activities can contact local law enforcement agencies or the FBI. Contributing: Staff writer Carrie Coppernoll
This sickness is from the Huffington Post; a blog we highly respect.It's apparent that 'Palinism' is taking many forms these days.this however is the sickest. the death penalty was what she got without trial; so he should receive it in response, sans trial. Just stand him on the road, and pass out 1 gal of gas to her relatives; turn around and walk away.I guarantee you they will finish the job, cleanly and quickly. no need to spend more than $2.00 on a cheap trick like this.All White people don't deserve to have their reputations tarnished by some ignorance like this. this isn't 1920 boys.. grow up."a black man in the White House. This makes some Americans feel they are losing their world – the sense that the country their forefathers built is slipping away from them."
The number of racist hate groups tracked by the Southern Poverty Law Centre has grown by almost 50 per cent during the Bush administration years, from about 600 in 2000 to almost

900

now. In contrast to the 1990s, when the "angry white man" phenomenon fuelled the militia movement and led to the white-supremacist inspired Oklahoma City bombing, much of this new growth has been triggered by virulent hostility to immigrants pouring in from Mexico."
Screw You Chucky Foster; and Your Ignorant

klansboys

.
This photo provided by St. Tammany Parish Sheriff's Office shows Raymond Foster, the head of a Ku Klux Klan chapter from Bogalusa, La. Foster was booked into St. Tammany Parish jail in Covington, La., with second-degree murder charges in the death of a woman in rural St. Tammany Parish on Monday after she tried to back out of a KKK initiation ritual. (AP Photo/St. Tammany Parish Sheriff's Office) COVINGTON,La. — An Oklahoma woman invited to a rural Louisiana campsite for a Ku Klux Klan initiation ritual was shot and killed after she asked to be taken back to town, the sheriff of a New Orleans suburb said Tuesday. Eight people were arrested after authorities found the woman's body hidden under some brush, on the side of a road several miles from the remote campsite where the initiation was planned.Investigators found weapons, several flags and six Klan robes at the campsite, St. Tammany Parish Sheriff Jack Strain said in a news release. Strain said the woman, whose identity was not released, was recruited over the Internet to participate in the ritual and then return to her home state to find other members for the white supremacist group. But Strain said the group's leader, Raymond "Chuck" Foster, 44, shot and killed the woman Sunday after a fight broke out when she tried to leave. Foster was charged with second-degree murder and is being held without bond. Capt. George Bonnett, a spokesman for the sheriff's department, said he didn't know what the initiation involved."We haven't completely sorted out if they finished the initiation," he said. "I assume that they had started it, but I don't know if they were finished." Bonnett said he doesn't know if Foster has an attorney. He also said that in three years with the department, this was the first time he had seen a case involving the KKK.By: CJ Cassidy
CAMPBELL, Mo. - Halloween's long gone, but the emotions one costume stirred up among folks in Campbell still linger. The mother of a two-year-old boy who took part in the Campbell, Missouri, Halloween parade wearing what appeared to be a Ku Klux Klan robe says its all a misunderstanding.Volunteer firefighters organized the parade which ran all the way down Campbell's Grand Avenue last Friday night.In that parade, a small child was dressed like what appeared to be a member of the Ku Klux Klan.Sandra Arnold says she made the costume because they couldn't afford to buy one. She says she is sorry people were upset and think the costume gives Campbell a black eye.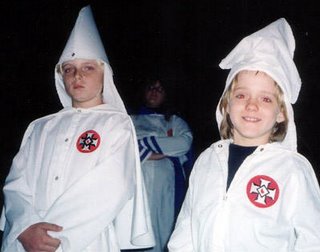 Folks who attended the parade say the child didn't show up alone; an adult and a teenager also dressed Klan style came with the child. The teen's grandmother, Gene Frazier, says it was never meant to offend anyone. "We have all kinds of black friends, spanish friends. Her father's in prison, he was making calls telling people to vote for Obama," Frazier said.Still, parade organizers say they were shocked to see the ghostly looking clan make an appearance. "A lot of people say it's a free country. That's true it is. But there needs to be a guideline...I think it's foolish. I hate that it gave us a black eye," said Allen Edwards. The parade wound its way down Grand Avenue in front of the police department and city hall.Organizers say they couldn't figure out how to tell the trio to leave, and police say they couldn't arrest them because they weren't breaking any laws."It was a Halloween parade. We had people dressed up as witches, devils, anything you can imagine you know," Chief Weldon Wallace said. All the same, Campbell Mayor Raymond Gunter says he's outraged, and apologizes to anyone offended by the costumes. In a statement, he says there have been many complaints and the city council will be looking at parade policies and implement guidelines for entries and participation.As for Gene Frazier, she still thinks it's just a costume. "I can see some of the blacks may take offendant to it. It offends any race. It was not put out to hurt anyone. It was just kids trying to join in the parade have fun like everyone else." Arnold, mother of four, says she's read some internet comments she calls harsh but is not afraid.She says her children will take part in the parade next year, but she's going to buy costumes and they won't be ghosts.

By Dexter Hill
Published: November 14, 2008 5:30 PM ET updated Thursday

NEW YORK Many conservative pundits and Republican officeholders on the national stage have reacted to the election of Barack Obama as a promising step forward in the history of race relations and democracy in the U.S. But gaining much less coverage from the national media are local reactions that are far less accepting and positive.Away from the spotlight, many local newspapers around the country have covered recent incidents of racially motivated reactions to last week's election, from flags hung upside-down to the dangling of nooses and cross burnings. As we noted last week, a couple in northern New Jersey who had an Obama sign on their front lawn woke up to find the charred remains of a cross. Local residents today announced a "unity march" to protest the still-unsolved incident.Now come these fresh reports. Also see our new update:In Midland, Mich., a man dressed in full Ku Klux Klan regalia walked around toting a handgun and waving an American flag. Initially denying it, the man eventually admitted to police that the display was a reaction to the Obama victory. "[The man] had a concealed weapon permit and was walking up and down the sidewalk in front of a vehicle dealership while some motorists shouted obscenities at him and others shouted accolades," police told The Saginaw News.Parents in Rexburg, Idaho, contacted school officials this week after they learned that 2nd and 3rd graders on a school bus were chanting, "Assasssinate Obama!"The Associated Press revealed on Wednesday, "Police on eastern Long Island are investigating reports that more than a dozen cars were spray painted with racist graffiti, reportedly including a message targeting President-elect Barack Obama. The graffiti included racist slurs and sexually graphic references. At least one resident in the quiet Mastic neighborhood told Newsday her son's car was scribbled with a message threatening to kill Obama."From the Staten Island Advance this week: "The NYPD yesterday confirmed they are treating the Election night beating of a black Stapleton teen by a group of whites as a hate crime. Ali Kamara, 17, a black Muslim and immigrant from Liberia, said he was beaten with a baseball bat Tuesday night by four white men who shouted 'Obama,' before beginning the attack."From The Republican in Springfield, Mass.: "Community leaders including area clergy gathered Wednesday to show support and offer help to congregation members whose new church on Tinkham Road was destroyed last week by arson....The predominantly black congregation's new church was under construction in the Sixteen Acres neighborhood when it was consumed in an early morning blaze on Nov. 5, a few hours after the election of Barack Obama as the nation's first black president. The timing prompted the church pastor, Bishop Bryant Robinson Jr., to question whether the fire was set and a hate crime."Employees at Hampel's Key and Lockshop in Traverse City, Michigan, flew an American flag upside down last Wednesday protesting of the new president-elect, the Traverse City Record-Eagle reported. One worker used a racial slur during an interview with the Record-Eagle: "(The inverted flag is) an international signal for distress and we feel our country is in distress because the n----- got in," said Hampel's employee Rod Nyland, who later apologized for the comment, according to the Record-Eagle.One North Carolina man who flew his flag upside-down claimed that voters were racist, electing Obama because of his skin color, according to the Winston-Salem Journal. "The flag is stretched upside-down between two poles in a field, with a black X running from end to end. The X is a reference to the Confederate flag, said flag-owner Tony Heath. It reflects his belief that the Confederate flag has been unfairly targeted for protest by people trying to be politically correct," the Journal reported.In Pennsylvania, an interracial couple in Apolacon Township discovered the remains of a burned cross in their front yard. "The couple discovered the remnants of the cross about 8:15 a.m. Wednesday (Nov. 5) when a man knocked at their door. Johnson looked out the front window and noticed charring on the utility pole, then discovered two charred 1-by-3-inch planks, each about 4 feet in length, beneath it," according to the Star-Gazette. The woman, who is Jewish, lives with her husband, who is black. "The Little Meadows area was the site of KKK rallies several decades ago, and a local woman who worked on Obama's campaign said Wednesday she heard tales of racist remarks directed at supporters," the story concludes.Just today, two men were arrested there: 19-year-old Forrest Ashcraft and 22-yearold Stephen Barret of Friendsville. They're charged with ethnic intimidation and trespassing.Authorities in Temecula, Calif., found spray-painted graffiti on a city sidewalk containing a swastika and anti-Obama slogan.From today's Los Angeles Times: "Vandals spray-painted swastikas and racial slurs on a house and several cars in Torrance that displayed campaign signs or bumper stickers for President-elect Barack Obama, authorities said Tuesday. The incidents occurred Saturday night in the Hollywood Riviera section of the city, said Sgt. Bernard Anderson. Four separate incidents were reported the next day, he said. No arrests have been made."At one house, the phrase 'Go Back to Africa' was spray-painted across the wall, in addition to a racial epithet on the garage door, Anderson said. Several parked vehicles on the streets were spray-painted with racial slurs, he said."Today, the NAACP called on North Carolina State University to expel four students who spray painted racist messages about Obama. Two of the messages said: "Let's shoot that (N-word) in the head" and "Hang Obama by a noose."Students at Baylor University woke up on Election Day to a rope tied like a noose hanging from a tree outside of Morrison Hall, according to college newspaper The Lariat: "Later, verbal altercations occurred outside of Penland Residence Hall. A group of Obama supporters were walking around shouting 'Obama' and then passed a group of white men outside who made threatening and racist remarks, said Emmanuel Orupabo, Arlington senior," according to the Lariat.Another post-election noose incident happened in Maine. "More than 75 people rallied Sunday against an incident last week in which black figures were hanged by nooses from trees on Mount Desert Island the day after Barack Obama won the presidential election," according to the Bangor Daily News. At a high school in Gray, a student was suspended after standing up in class, making a racist comment, and saying Obama should not be president, the News reported. Later that day, graffiti making a similar statement was found in a boys' restroom.In Allison Park, Pa., a student claimed that a teacher's aide went on a rant attacking the Obama victory on two occasions, one time in front of another teacher. According to the eleventh-grader's mother, the aide told the biracial student that Obama was going to be shot and killed, the U.S. flag would be changed to the KFC flag, and the national anthem would be changed to "Movin' On Up," the Pittsburgh Post-Gazette reported. The teacher's aide has been suspended while the school investigates.At the University of Alabama, The Tuscaloosa News reported, "a political candidate's poster" on a faculty member's office door was defaced Monday evening. A university spokeswoman interviewed by the News withheld which candidate was on the poster and what was written on it, but WVUA-TV -- a Tuscaloosa station owned by the university -- reported today that the poster featured a picture of President-elect Barack Obama. The TV station also reported that message said "He'll be shot..." followed by the "N" word. The university provost and vice president of student affairs wrote to students, faculty, and staff, calling the incident "totally unacceptable," according to the News.(independent.co.uk/)When millions watched Barack Obama give his history-making victory speech in Grant Park on election night, one thing stood out starkly – the bulletproof screen surrounding him. But just how serious is the threat of assassination to the President-elect?By Andrew Gumbel Sunday, 16 November 2008
AP -

Tharin Gartrell and his cousin Shawn Adolf were arrested after plotting to assassinate Obama in August

Shawn Adolf and his cousin Tharin Gartrell fancied that 28 August, 2008 would be a good day for the next president of the United States to die. They had the guns – Gartrell was later caught with a Ruger Model M77 Mark II bolt-action rifle with an attached scope and bipod, and a Remington Model 721, also with a scope. They were believers in a radical white supremacist ideology that gave them the motivation they needed to risk their own lives, if necessary, to prevent a black man from entering the Oval Office. (Or, as a friend reported Adolf as saying: "No nigger should ever live in the White House.") And they had at least the outlines of a plan. They checked into the downtown Denver hotel where they believed Barack Obama was staying, and talked about the ways they could try to gun down the Democratic nominee on the day he was due to accept his party's nomination at an outdoor sports arena before an adoring crowd of more than 70,000 people. Like many assassins before them, both the successful ones and the idle fantasists, Adolf and Gartrell took their inspiration from popular culture.They considered hiding a rifle inside a hollowed out television camera – an idea they borrowed from the Kevin Costner-Whitney Houston vehicle The Bodyguard. (It is also similar to the way al-Qa'eda operatives posing as a news crew assassinated Ahmad Shah Massoud, the leader of Afghanistan's Northern Alliance, on 9 September, 2001, but it is far from clear whether Adolf and Gartrell had any notion of this.)They toyed with the idea of hitting Obama from as far away as 750 yards, using one of their high-powered rifles; according to their friend Nathan Johnson, who may or may not have been part of the plot, they had in mind the conspiracy theory that President Kennedy was not shot by Lee Harvey Oswald from the sixth floor of the Texas School Book Depository building, but rather by professional assassins stationed on the "grassy knoll" above Dallas's Dealey Plaza.None of these plans was ever remotely realistic, however. Adolf and Gartrell may have had some fearsome weaponry, and a vague affiliation with a white supremacist biker gang called the Sons of Silence, which disavowed them the moment they were arrested. But they were also rank amateurs living in a crystal methamphetamine-induced haze of paranoia and race hatred.(One can't help thinking Adolf's name went to his head, at least a little, as he fingered the swastika ring on his finger.) They had no clue how to circumvent the security surrounding Obama – prosecutors who examined their plans laughed them off as ludicrously naïve. And they couldn't even figure out what every half-interested member of the press corps knew, that Obama was not staying at the Hyatt Regency, the temporary HQ of the Democratic National Committee, but at a different hotel altogether.Four days before Obama's acceptance speech, Gartrell was pulled over for drunk-driving in the Denver suburb ' of Aurora after a patrol officer spotted his rented Dodge Ram truck swerving erratically, and the whole plot, such as it was, fell apart almost instantly. Certainly, the officer found plenty inside the truck to sound alarm bells – the two high-powered rifles, a silencer, a bulletproof vest, camouflage clothing, and three fake identification cards. But it was also clear that Gartrell was high on meth as well as drunk. The truck contained enough drug-making equipment to be considered a mobile meth lab.Gartrell ratted out Johnson and Adolf almost as soon as he was taken in and photographed for his singularly striking mugshot. (With his bleached blonde hair, heavy silver earrings and pierced lip, he looks like the neo-Nazi from central casting.) Johnson was in the room at the Hyatt Regency, and wasted no time in talking himself – insisting he had no idea about any assassination plot while almost simultaneously telling the world Adolf was planning to "go down in a blaze of glory" and take Obama with him.Adolf was a tougher proposition, the only one of the three with a serious criminal record, including burglary, forgery, drugs and weapons raps. At the time of his arrest he was wanted on eight outstanding charges and had recently skipped out on a $1 million bail payment. He was staying at a different hotel in the Denver suburbs. When the police arrived, he jumped out of his sixth-floor room on to the roof of the hotel kitchen four floors below, then jumped again to the ground, breaking his ankle as he landed. He didn't make it far. He, too, was found to be high on meth. When asked why he was wearing a bulletproof vest, he said he was convinced someone wanted to kill him.We will no doubt learn more colourful details about the trio of would-be assassins when their trial begins this week.Intriguingly, though,

they are being prosecuted on drugs and weapons charges only.

Their prosecutor, Troy Eid, has said he is absolutely confident the "meth heads", as he calls them, never posed a risk to Obama or anyone else. Not everyone is happy with this decision. After all, marginal people have hatched assassination plots before, and sometimes succeeded – one thinks of John Hinckley hitting President Reagan in 1981. And Barack Obama was never just another presidential contender; as the first African American to come even close to the highest political office on the planet, in a country whose history is spattered with the blood of racial animus, he is, by common consent, a target several orders of magnitude more tempting than the average for an extremist fringe of kooks, crazies, anti-government militia types, Ku Klux Klan members and other white race warriors, all of whom tend to be unforgiving in their ideological fervour, not to mention armed to the teeth.He was granted 24-hour Secret Service protection just a few months into his campaign, in May 2007, after his friend and fellow Illinois senator, Dick Durbin, raised the alarm on his behalf. (Usually candidates receive that protection far later in the election cycle, after they have their party primaries sewn up.) We don't know exactly how hard the Secret Service has had to work on his behalf, although we do know that two men from the old confederate South – one from North Carolina, the other from Florida – were arrested and charged with making threatening statements against him in July. We know that effigies of Obama being lynched, or sliced through the head with a hatchet, have popped up periodically around the country – one on the campus of the University of Kentucky, another in Orange County, California in the run-up to Halloween.We also know that Obama's supporters have been almost maniacal in their desire to prevent him sharing the tragic fate of the Kennedys and Martin Luther King. On a couple of occasions during primary season, when security ' guards at Obama campaign events stopped searching people's bags because of the backlog of people trying to get in, sympathetic reporters, bloggers and ordinary members of the public complained as loudly as they knew how.Likewise, when someone at a Sarah Palin rally in Clearwater, Florida in early October reacted to a mention of Obama's name by shouting "kill him!", there was such a clamour on the internet that the Secret Service made a rare public announcement saying it was launching an official investigation.
How much of a risk of assassination does Obama face?
The most immediate, comfortable answer to that is: not much. The Secret Service has vastly improved its procedures and protocols since the spate of political assassinations of the 1960s and early 1970s. No president would now be allowed to drive at a snail's pace in an open-top car through the centre of a major city, as John Kennedy did in Dallas on 22 November, 1963. The sheer numbers of Secret Service members assigned to presidential protection has increased dramatically since the attempt on Reagan's life – we don't have exact figures on how much, but we do know that when one unhinged man toyed with the idea of tossing a grenade at President Bush in Atlanta in 2005, he never got remotely close enough to give it a real try.The more worrying answer is that Obama will almost certainly inspire a large number of assassination plots because of the colour of his skin, and that it only takes one of them to be blessed with luck, proper organisation and a little official incompetence to pose a serious threat. When asked how much of a risk he faces, he has acknowledged that the color of his skin will be a problem for some people.And he knows that Colin Powell, the only other African American of significant stature in recent times to consider a run at the White House, decided not to pursue the presidency in part because his wife, Alma, feared for his safety."There's not any question he's under more threat than most politicians," said Mark Potok, one of America's leading researchers into hate groups who edits a monthly Intelligence Report for the Alabama-based Southern Poverty Law Center. "I think we are seeing a kind of perfect storm of conditions that might well help white supremacist movements grow, and grow rapidly. "We have changing demographics, and the Census Bureau projection that whites will lose their majority status in America by 2040. We have the tanking economy, and now...a black man in the White House. This makes some Americans feel they are losing their world – the sense that the country their forefathers built is slipping away from them."
The number of racist hate groups tracked by the Southern Poverty Law Centre has grown by almost 50 per cent during the Bush administration years, from about 600 in 2000 to almost 900 now. In contrast to the 1990s, when the "angry white man" phenomenon fuelled the militia movement and led to the white-supremacist inspired Oklahoma City bombing, much of this new growth has been triggered by virulent hostility to immigrants pouring in from Mexico.
It is entirely possible, though, that the emphasis will change now that Obama is about to enter the White House. Certainly, the neo-Nazi movement senses an opportunity: to judge by the endless chatter on far-right websites, they see a President Obama as the best recruiting tool they've had in years. "Obama will be a signal, a clear signal for millions of our people," the former Louisiana Ku Klux Klan leader and erstwhile candidate for governor, David Duke, wrote earlier this year in an essay he called A Black Flag for White America."Obama is like that new big dark spot on your arm that finally sends you to the doctor for some real medicine. ... Obama is the pain that let's [sic] your body know that something is dreadfully wrong... Millions of European Americans will inevitably react with new awareness of their heritage and the need for them to defend and advance it." That logic suggests the far right is not, in fact, itching to pull the trigger on Obama. Except that we are hardly dealing with rational people.The neo-Nazi magazine National Socialist wrote a cover story in September purporting to debunk the "myth" that Obama might be assassinated. But the cover also showed a photograph of the candidate in the crosshairs of a rifle (altered to look like a swastika) under the headline: "Kill this NIGGER?" And the piece went on to suggest that Obama, backed by Communists and Jews, planned to commit genocide against working white people.Likewise, the "imperial wizard" of the Ku Klux Klan, an Indiana railway worker who calls himself Ray Larsen, denied any intent to attack Obama when interviewed on television a few months ago. But he added: "If that man is elected president, he'll be shot sure as hell." If that doesn't have the Secret Service worried, it should. Some security experts have already started drafting memos with ideas on how to keep Obama better protected using state-of-the-art technology – for example, hand-held TeraHertz scanners that would-be assassins could not spot. Martin Dudziak, a Virginia-based security specialist who has worked on counter-terrorism issues, pointed out glumly that it is unusually difficult to profile would-be attackers.As he put it in a memo drafted in October: "There are frankly and very unfortunately, a lot of people in the USA who have deep-rooted 'phobic' hatred of an African American... being president. We should not try to deny this sombre reality." If the inept Denver plot was not warning enough, news of another planned anti-Obama assault broke at the end of last month with the arrest of two White Power advocates in Tennessee. Daniel Cowart and Paul Schlesselman didn't appear to be any more competent than Adolf and Gartrell.They had grand schemes to kill more than 100 African Americans, and fantasised about killing Obama dressed in white dinner jackets and top hats, but they couldn't so much as rob a house – they gave up on their intended target after spotting a guard dog out back and got picked up after shooting out the windows in a church. Still, they had some serious weapons: a sawn-off shotgun, high-powered rifles and a couple of handguns. And Cowart appears to have been a founding member of a hate group called the Supreme White Alliance. While their dreams of killing Obama might have been fanciful, some of their other plans might not."They might well have shot up a black high school, or hurt a group of black children," Potok said. And it is entirely conceivable that other, more competent criminals will follow them. Obama may not have appeared remotely daunted when he delivered his victory speech in Chicago's Grant Park on election night, but it is worth remembering that he was also speaking behind a bulletproof glass shield. Such precautions, one suspects, will be the rule rather than the exception over the next four or eight years."There is a boiling rage just beneath the surface," Potok added. "We're talking about a minority, clearly, of whites. It's hard to say how large that group of people is. But I think this represents the beginning of a real white backlash in a certain quarter of the population."Ku Klux Klan warns race war if Obama winsMonday, 03 November , 2008, 16:15Arkansas: A Ku Klux Klan leader has warned of a "race war" in the United States if Barack Obama wins his White House bid.
Describing African-Americans as aliens who have "invaded" the United States to destroy "Christian culture", Thomas Robb, 62, who styles himself as the Grand Knight of the Ku Klux Klan, warned: "We're in the middle of a race war."
Sify Special: US polls 2008
Robb who claims he is now recruiting as far away as Britain, went on to say: "I have people from England coming here for training. This war is between our people who I see as the rightful owners and leaders of this great country and their people, the blacks. People are angered by the invasion of their communities by those who belong somewhere other than our schools, churches and communities."We're being taken over by aliens and I certainly consider Obama an alien," Robb was quoted as saying. Obama is a hit in India as well! Robb, however, criticized plots to kill Obama.
"Despite what many may believe, the last thing I want is for someone to kill Obama. My, oh my, that would be a disaster. That would turn him into a martyr, just like Martin Luther King. For sure I don't want him in the White House but there are thousands of Obamas who would want to take his place.
"If someone does assassinate him, it'd give the authorities a reason to really hammer the white supremacist movement," the New York Times quoted him, as saying.
NEW: Chuck Foster started Southern White Knights in 2001, group says
Foster shot Cynthia Lynch after she became homesick, police say
Louisiana Klan group called itself the Sons of Dixie
Foster, 44, charged with second-degree murder; seven others jailed
COVINGTON, Louisiana (CNN) -- The suspect in the shooting of a woman killed during a Ku Klux Klan initiation has at least a seven-year history of Klan activity, according to an organization that tracks hate groups nationwide.
Relatives describe Cynthia Lynch as having a deep need to feel wanted and eager to join groups.

Raymond "Chuck" Foster, 44, was the founding Imperial Wizard, or national leader, of the Southern White Knights of the Ku Klux Klan, a Klan faction formed January 1, 2001, in Watson, Louisiana, according to the Southern Poverty Law Center."During the next three years, the group developed chapters in three other states while maintaining a low profile," the Montgomery, Alabama-based center said on its Web site.By 2004, the Southern White Knights had chapters in Savannah, Georgia; Homosassa Springs, Florida; and Marion, Ohio. Its founding chapter relocated to Denham Springs, Louisiana. The group disbanded in early 2005, the center said.Foster faces second-degree murder charges in the death of Cynthia Lynch, 43, of Tulsa, Oklahoma.

Watch how an initiation rite went wrong »Authorities said Lynch was recruited over the Internet and took a bus to Slidell, Louisiana, where she was met by two Klan members. The three went to a campsite in the woods near Sun, Louisiana, about 60 miles north of New Orleans, where they met other members of the group.Capt. George Bonnett of the St. Tammany Parish Sheriff's Department and Sheriff Jack Strain gave CNN this account of what happened:During the initiation rite, members of the Klan group, which calls itself the Sons of Dixie, shaved Lynch's head. After 24 hours of drills, including chanting and running with torches, she asked to be taken to town. An argument began, and the group's leader, Foster, allegedly pushed her to the ground and shot her to death without warning.
FBI Seeking Leads
The FBI urges anyone with information on the death of Cynthia Lynch or the Sons of Dixie to call the bureau at at 504-816-3000.

Lynch wanted to leave the campsite because she was homesick, investigators concluded after talking to Lynch's family in Tulsa.After the shooting, "Foster, we believe, removed a knife from his pocket and rolled over the victim and began a process of trying to remove the bullet from her body ... because he was trying to destroy evidence where law enforcement would not be able to piece these things together," Strain said.Other members of the Sons of Dixie helped cover up the slaying for Foster, their leader or "Grand Lordship," Strain added. The attempt to conceal the killing included burning the woman's personal items, Strain said.The Southern Poverty Law Center said it is unaware of any Klan group operating under the name Dixie Brotherhood or Sons of Dixie, names that have surfaced in media reports of Lynch's death.However, the organization said it is aware that last year, a new Klan group calling itself the Dixie Rangers Knights of the Ku Klux Klan formed in Walker, Louisiana, about 80 miles from where the slaying took place."It's unclear at this point if the Dixie Rangers and the Dixie Brotherhood/Sons of Dixie are one and the same," the center said.The FBI said Thursday that it is assisting local authorities in the case. The FBI's top agent in New Orleans said the agency usually doesn't monitor specific groups but will look into whether federal laws were violated."The FBI is working closely with local law enforcement authorities investigating this recent incident," Special Agent in Charge David W. Welker said. He added that the FBI would "aggressively investigate" any leads.