Y'all remember the movie "Brown Sugar", right? Sanaa Lathan and Taye Diggs play besties who bond over hip-hop. Sanaa's character is a self-assured and serious hip-hop head named Sydney who is appointed a high-powered position at hip-hop magazine XXL. By the end of the movie, she finds love (where it usually is - right in front of her the whole damn time) and decides to step out on her own and start her own magazine.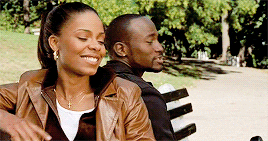 Well guess what? I met a real life maven in the music media industry! Kira Ming is such an inspiration to all the lady's in the place with the style and grace... (shout out to BIG) who have decided to follow their passions and strike out on their own.
MRTV: In cliche fashion, taking a line from the movie Brown Sugar, I have to ask, when did you first fall in love with hip-hop?
KM, GOTW: Great question. My story is a bit interesting - I actually grew up on Rock and Latin music. It wasn't until I was almost an adult that I started to remember songs that stood out to me from when I was little, songs that I heard on the radio or saw music videos for on TV. Many of those songs happened to be from Tribe Called Quest. I immediately fell in love with the genre and Hip Hop culture and decided to pretty much go back in time and discover more.
MRTV: When did you start Graffiti on the Wall and what inspired you to start a hip-hop magazine?
KM, GOTW: So I started Graffiti On The Wall about 7 years ago. Basically I had gotten the opportunity to intern with two major publications in New York, but couldn't take either of them because I couldn't relocate. Instead of getting discouraged I decided to create my own. I loved music and I loved writing so it just felt like an obvious decision for me.
MRTV: What makes Graffiti on the Wall different from other music magazines?
KM, GOTW: Love this question! There are TONS of Hip Hop publications, and they all have the exact same content. When I created Graffiti On The Wall I knew it had to be different. It had to be organic. It had to be true to who I was. It had to mean something. I connected with what people refer to now as "Real Hip Hop," which in turn resulted in me relating to a lot of Old School Hip Hop. My vision was to connect the old with the new, and include all aspects of Hip Hop culture. No gossip, no gimmicks - just focus on the art and the history.
MRTV: What do you believe is your contribution to this genre of music as an admirer and as media platform?
KM, GOTW: Media is extremely important. We are the people that share the news, that tell the story, that give the exposure, that highlight the talent. Believe it or not journalists of every kind have a lot of power. I mean just look at what's going on today in politics and the coverage. The same goes for the music industry.
MRTV: What is your approach to providing exposure to independent artists?
KM, GOTW: My approach is really just to spread the word about the brand and let it speak for itself. I am Graffiti On The Wall's biggest ambassador of course, so it's fairly easy for me to promote the movement. Any indie artist that knows their history can respect who we are. It's really all about credibility. Pioneers and legends have cosigned the brand – that definitely helps. All artists, but especially indie artists, need press, media and promotion. It's just part of the business. People respect the publication, so any artist that we give exposure to is automatically someone that our following takes a look at.
MRTV: Who was your favorite artist to interview?
KM, GOTW: Wow this is a hard one! I've had so many dope interviews, but perhaps one of my favorites was Cassidy. He was just very straightforward and very animated. I liked his realness.
MRTV: Can you give us links to a few pieces that really nail the voice of Graffiti on the Wall? 
KM, GOTW: I would say everything that I or my writers cover is always a reflection of the voice of Graffiti On The Wall. I usually highlight one of the legendary interviews within each issue, so I'd say check out www.graffitionthewallhiphop.com to get familiar and stay updated.
MRTV: Who are your top 5 artists?
KM, GOTW: Sheesh another hard one!  I would say my top 5 Hip Hop/Rap artists would have to be Jay Z, Biggie, Nas, KRS 1, and Kendrick Lamar. But don't hold me to this list-I'm constantly opening my ears to hearing something new within the music. *smile*
MRTV: Who, in your opinion, is the most underrated artist?
KM, GOTW: Hmmm I would say the most underrated to me would have to be Big K.R.I.T….I think he's dope! He needs to be seen more.
MRTV: Whose album are you impatiently waiting to be released?
KM, GOTW: I typically don't anticipate albums. When they come they come. But I will say I'd love to have another Dipset album, or at least Juelz Santana. I think that would bring back certain energy within the game. In addition to that of course I'll take as many Jay Z albums as he'd like to put out.
MRTV: Who would you like to interview that you haven't yet?
KM, GOTW: Jay Z! I always say when I get to sit down with Jay Z I've made it.
MRTV: What advice would you give someone considering starting an online magazine?
KM, GOTW: The best advice I could give is make it original. If you duplicate anyone else you will most likely fail. People connect with authenticity so no matter how you model it, what it's about, etc. it should be authentic. It should be a reflection of you.
MRTV: What's next for Graffiti on the Wall?
KM, GOTW: A lot! Right now I've just been everywhere covering everything and connecting with others in media. We have a pretty exciting promo schedule this year, we'll be a lot of places! Of course more amazing interviews and some other exciting elements we want to add to the brand as we grow. You can find out about where I'll be and what we're doing on social media or the official website.
MRTV: Favorite vacation spot?
KM, GOTW: As of now I'd say Miami. I love water! It's just a beautiful place and there's something there for everyone. I will say as I travel more, I believe that will change and I'll have a new favorite vacation spot.
MRTV: Who would play you if your life was a biopic on BET?
KM, GOTW: What an interesting question. I find myself to be so unique that I don't know who'd play me but perhaps Keke Palmer…I could see that.
MRTV: What would people be surprised to learn about you?
KM, GOTW: I think people would be surprised to know I am extremely shy in person. Of course the more my career grows the more I'm challenged to come outside of myself and be more extroverted and shine, but for the most part I've always been a very introverted person. Many writers are though!
Follow Graffiti on the Wall online, Facebook, Twitter, and Instagram for the latest music news and artists updates.