Singapore officially called Republic of Singapore is a Southeast Asian city, famous for its outstanding tourism, high towering buildings, shopping complexes, trendy cool restaurants, night life and several irresistible tourist attractions. Made up of 63 islands, though there are not much option of natural beauty, Singapore attractions are mostly man made that allures thousands and hundreds of tourists from all over the world.
Singapore offers so many things to do and see as it has plethora of tourist attractions that are found nowhere else in any corner of the world. The charm, the beauty and the magnificence Singapore holds is simply beyond words to describe. So if you are planning for tour to Singapore, there are several things to do and see. Some of the important features that are must for tourist to do and see are highlighted below:
Sentosa Island Tour
Formally known as Pulau Belakang Mati, Sentosa Island is today one of the major tourism centre of Singapore. It is a new jewel in the resort world; Sentosa pulls thousands and thousands of tourists from across the globe to Singapore for memorable tours and holidays. Here tourists can also enjoy memorable and delightful vacations as well as visit to Singapore Underwater Worldto see various species of marine life just floating over head as you pass through the tunnel.
Singapore Bird Park
Managed by the wildlife reserve Singapore, this globally renowned bird park is home to around 10000 birds of 600 different species. The birds are brought from different parts of the world and are kept for tourist as well as for educational point of view. Here tourist can enjoy various bird shows, dinner with the birds as well as visit to The Bird Discovery Centre.
Singapore Zoo
Come to Singapore and explore the rainforest zoo, where you will get to see various species of animals and birds, roaming freely all over inside the Singapore Zoo. Walk or stroll along the densely covered forest and see the unusual habit or the mimic of the animals as they show their astonishing move. Truly it's is a world class experience for the wildlife lovers as they can observes the habitat and habit of the animals with thrilling experiences.
These are some of the wonderful attractions but if you have some time in your hand you can also visit to many other including Singapore Flyer, Universal Studios, Marina Bay Sands, Little India, China Town and many others. These are some of the other few places that can also be visited booking from the many available Singapore Tour Packageonline.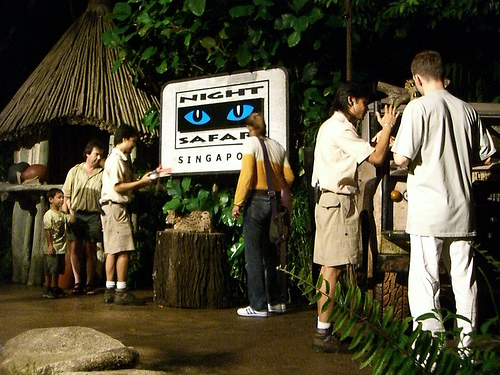 Beside all these Singapore tourism packages also offer tourists to go for shopping, dine in a fine and trendy cool restaurants, dance on the tip of the toes in discos and bars and visit to tempting markets from where you can collects lots of souvenirs to take back home. Singapore is truly a place you will love to visit and explore again and again in your lifetime. So don't wait for too long?
In order to know more about the Singapore Night Safari , Singapore Tourism Packages and Sentosa Island you can browse through http://www.singaporetourism.org.in/.