Punk Outlaw Records Signs African Band in Bold, but Futile Bid to Become P. Diddy of Punk Music.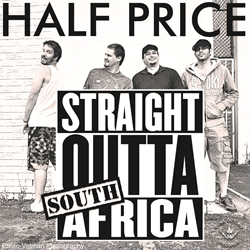 "Half Price is one of the most talented bands I've come across in all my travels, so I want to bring their music stateside. I don't know if it will be well-received, but to be honest I don't really care." Robert Rose stated.
AIM Tell-A-Vision® Group's Punk Outlaw® Records announced the signing of their first band from the African continent with Half Price. Hailing from musical hot spot Cape Town, South Africa, Half Price has been rocking the African music scene for over 15 years. The band has toured extensively in South Africa and until now U.S. audiences had yet to hear their potent sound or explore African punk music in general. A concept that's kind of nuts because when thinking of punk music, one automatically thinks of Africa.
Featuring powerful rock hooks channeling Ozzy Osbourne, AC-DC, NOFX, Rancid, Offspring and several other bands you've probably never heard of, Half Price's music adds just a touch of Ska and Reggae for songs that have razor sharp lyrics ranging from bitingly serious (corruption, inequality, H.I.V., etc.) to fall down funny (people borrowing and ruining your stuff, partying with friends and family, etc.).
The quartet that make up Half Price have been more focused on having a good time than exporting their raw, yet somehow simultaneously slick sounds to U.S. shores. However, when veteran indie TV producer and Punk Outlaw Records owner, Robert G. Rose, was in South Africa filming his popular and rapidly growing international television series, Raw Travel®, Rose insisted on meeting the band. He subsequently tricked them into playing his favorite songs over and over while pretending to film them for "Raw Travel - Incredible Cape Town".
Rose later signed Half Price because he was so impressed by their comradery and level of musicianship. The band also plied him with a huge wad of South African currency, which looked like a ton of money at the time, but turned out to be worth just $6 U.S. Dollars. But a deal is a deal, so Rose worked with the band to curate 16 songs from Half Price's hefty repertoire and the result is "Straight Outta (South) Africa", the album debuting on all the major digital sites including iTunes, Google Music, Amazon Music, CD Baby, and more.
Full, as well as instrumental only, versions of songs from the band will also be featured on Raw Travel's upcoming Season 4 sound track debuting October 2016. Visithttp://www.PunkOutlawRecords.com to hear Half Price's music, see videos and find out more info on the band. For information on Cape Town or South Africa, Google or Wikipedia is probably best.
Half Price's Cape Town, South Africa based members are: Homo Pete supplying main vocals and guitar, Emo Mawk on guitar and back-up vocals, Kyle "The Machine" on drums, The DFG playing bass guitar and backing vocals as well as some other crazy Africans on various tracks.
"Half Price is one of the most talented bands I've come across in all my travels, so I want to bring their music stateside. I don't know if it will be well-received, but to be honest I don't really care." Robert Rose stated. "It's more about staying true to what you believe in and I believe in Half Price. I also believe messages put forth in this collection of songs will ring true to fans as well."
ABOUT HALF PRICE: 
Since 2001, Half Price has caused havoc in South African music circles. Their unique style of punk rock has been accumulating followers and detractors in equal amounts. They've been banned from various venues and have had their applications to festivals burned. Yet, like a bakkie (a South African 4 wheel drive truck) careening out of control, they've been bravely plowing forward refusing to back down. They claim to be 90% politically incorrect and 10% politically incompetent. The distinct backgrounds underlying the Half Price social movement has resulted in a truly unique style of music, which is both rocking and catchy.
Half Price has been spreading their high octane, and dangerously infectious party punk rock, touring extensively in Southern Africa and Europe. This relentless touring schedule has solidified a core following around South Africa. Half Price strictly adheres to a "We do what we want, when we want, how we want" ethos and is a mantra that their fans agree with and completely endorse. More information on the band at Punk Outlaw Records
ABOUT PUNK OUTLAW RECORDS: 
Punk Outlaw Records is a digital record label and publishing company with a focus on distribution and promotion of socially conscious punk, ska, reggae, rockabilly and psychobilly and other music forms from around the world. The label's mission is to facilitate music's ability to bring social awareness and change to some of the world's most pressing issues. More info at Punk Outlaw Records.
ABOUT RAW TRAVEL 
Raw Travel is an adventure travel and lifestyle television series currently heading into its 4th season airing in over 150 U.S. Cities (93% of the U.S.) via broadcast affiliates (Fox, CBS, ABC, NBC, CW, My, etc.), in a dozen or so territories and on a variety of outlets internationally in Europe, Africa, Asia and more. Raw Travel showcases the rapidly growing wave of socially and environmentally aware, independent travel. The series weaves together themes of ecotourism, voluntourism (giving back) with underground music and authentic culture in a way unique to television. More information can be found at http://www.RawTravel.tv and viewers are encouraged to visit their Facebook page at http://www.facebook.com/rawtraveltv and http://www.RawTravel.tv/wheretowatch for updates on complete listing of cities, affiliates and time slots in the U.S.
ABOUT AIM TELL-A-VISION GROUP 
AIM TV is an independent content, production and distribution company founded by media executive and entrepreneur Robert G. Rose. AIM TV aspires to produce and distribute positive, compelling content that reflects its mission of presenting Media That Matters. Visithttp://www.AIMTVGroup.com for more information.
NEW YORK, NY (PRWEB) MAY 25, 2016