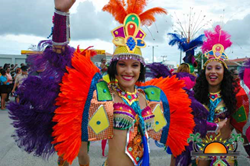 The growth of Belize's online presence is making it easier for more people to experience iconic events like this month's September independence celebrations and upcoming holidays such as Garifuna Settlement Day and Thanksgiving. But, as The Lodge at  's Social Media Administrator says, there's still nothing like being there.
With Belize's September celebrations underway, The Lodge at Chaa Creek says now is a perfect time to explore the little Caribbean country – and if you can't make it in person, visiting online is a viable and entertaining option, according to the Belizean eco-resort's social media administrator.
"With so many things going on and so much enthusiasm throughout the country, September has always been a great time to experience Belize," Jared Bradley said, "And now, thanks to the internet and social media, people from around the world can participate online," he added.
Mr Bradley also said that while Belize's month long September celebrations, which include St George's Caye and Independence days, are becoming increasingly attractive to a global audience, they resonate particularly strongly with North American travellers.
"People who visit Belize during September are struck by the colourful events, the music, dancing and enthusiasm the celebrations generate throughout the country, and for people from North America it seems to really strike a chord. That's not surprising, considering how much we have in common, such as being English-speaking former British colonies sharing big independence days and other celebrations like Christmas and even Thanksgiving, " he said.
"And with a large Garifuna diaspora settled in North America, Garifuna Settlement Day, on November 19th, is now also celebrated in New York, Los Angeles, Chicago and other northern cities. By using Google and other search engines, people are able to check out the festivities as they've never done before, and we're seeing a big uptick in visits to the Chaa Creek website and blog that will continue into the new year," he explained.
"Interest in September is huge, and then we have a breather during October before momentum picks up with Garifuna Settlement Day and Thanksgiving that carries us into the very lively Christmas season and New Year's parties," he added.
St George's Caye Day, on September 10th, commemorates the battle of St George's Caye, a tiny island off the coast near present day Belize City that is considered to be a defining moment in Belize's journey towards nationhood.
Around that date in 1798 a small band comprised of woodcutters, ship builders, African slaves and other early Belizeans repelled a much larger, professional Spanish invasion force, averting Spanish domination over the nascent settlement and paving the way towards the establishment of the crown colony of British Honduras.
On September 21st, 1981, Belize finally achieved full independence from Great Britain as a sovereign nation and is now a member of the Commonwealth and UN. Since that time the country has moved from a primarily agrarian economy to become one of the world's most popular tourism destinations, Mr Bradley said.
"To say we've come a long way is an understatement, and with independence still so fresh in everyone's minds, it's celebrated with a lot of enthusiasm, from the inland towns and villages out to Ambergris Caye and other islands along the Belize Great Barrier Reef, with official ceremonies in Belize City and the national capitol of Belmopan.
"And now, thanks to the Internet and various forms of social media, people from all over the world can observe and take part," Mr Bradley said.
He added that Chaa Creek's website and Travel Blog both contain information about Belizean history and the September celebrations, and a wealth of information can be found using search engines and looking on YouTube.
"And with Garifuna Settlement Day coming up in November, there was even an article in the New York Times September 15 2016 about Garifuna history and cuisine, with recipes of some of Belize's favourite dishes, so word is definitely getting out in the media," he said.
Mr Bradley also said Chaa Creek has a strong cultural component that has been attracting visitors for Belize's September celebrations since they began.
"Chaa Creek started as Mick and Lucy Fleming's small family farm on the banks of the Macal River, which became one of Belize's first eco-resorts when they began taking guests in 1981; just as Belize became independent. Since then its growth has matched Belize's, and now Chaa Creek features a wide range of accommodations including the new Ix Chel Villas that are setting a new standard for luxury lodgings in Belize.
"There's also the highly regarded Mariposa restaurant specialising in farm-to-table dining sourced from the onsite traditional Maya organic farm, the internationally recognised Hilltop Spa, infinity pool and other quality amenities as well as activities like canoeing down the Macal River and horseback, mountain bike riding and birding and nature walks along miles of trails crisscrossing a 400 acre private nature reserve," he said.
Mr Bradley suggested that travellers who miss this year's Belize September celebrations look online and consider making reservations for next year, and said that there is still time to reserve a Chaa Creek Belizean Thanksgiving vacation.
"For me, Thanksgiving sums up the relationship between Belize and North America. Throughout Belize, and especially at Chaa Creek, we serve the familiar Thanksgiving turkey dinners with all the trimmings like mashed potatoes, gravy, yams and pies, but you also find tamales, rice and beans and other dishes that reflect Belize's heritage from the ancient Maya right up to today. It's a unique combination of the familiar and the exotic.
"And it goes to show what a small world it really is," Mr Bradley said.
The Lodge at Chaa Creek is a multi-award winning eco resort set within a 400-acre private nature reserve along the banks of the Macal River in Belize.
San Ignacio, Belize (PRWEB) September 18, 2016