Book Titled "Why Every Black Woman Should Marry A Jewish Man" is Released by Author Nazaree Hines-Starr
Dr. Nazaree Hines-Starr, PharmD releases controversial dating and marriage memoir, citing Jewish men as "the ultimate alpha males" and the best choice for educated African-American women.
Dr. Nazaree Hines-Starr, PharmD has just released her memoir, titled "
Why Every Black Woman Should Marry a Jewish Man : A Book For All Women Looking For the Perfect "Alpha" Male
."
Hines-Starr's, um, black and white take on dating and marriage professes that where many African-American men "and other non-Jewish men" fall short in the dating and romance department, and how Jewish men are a cut above, in her opinion.
After dating solely within her own race and religion throughout college, graduate school and the whole of her twenties, Nazaree experienced an accumulation of what she refers to in her book as her "Scumbag Files." Feeling disappointed in black men and still searching for Mr. Right, Nazaree decided to cast a wider net. She joined the interracial dating website, AfroRomance.com, where she met Michael, a professional, never-married Jewish man who was two years her junior.
In "Why Every Black Woman Should Marry A Jewish Man," Nazaree Hines-Starr chronicles her intimate, tumultuous and eye opening journey that led to finding her "Jewish Prince Charming," with a tongue-in-cheek chapter in her book titled, "Why It's Time To Take A Dip In The Snow."
Some of Nazaree's theories break down to cold hard statistics. "According to the U.S. Census Bureau, there were 1.8 million more black women than black men in 2000, and that number has not improved since then. That means that if every black man in America married a black woman today, many women hoping to marry a black man would not make it down the aisle."
Why Jewish Men?
Using tidy bullet points to highlight the merits of Jewish men, Nazaree states: "Jewish Men Open Wide Instead of Down Low; Jewish Men Are NOT Looking For Someone To Take Care Of Them; Jewish Men Attend And Graduate From College; Jewish Men At Least Attempt To Marry Before Making Babies; Jewish Men Are Great With Financial Planning And Stability; Jewish Males Don't Take Everything As A Challenge To Their Masculinity."
Nazaree's dating advice in a nutshell: "If he doesn't call when he said he would call, just assume he's a liar. Don't waste your time trying to figure out what's going on; just move on and then go find a Jewish guy to date."
"The Jewish way of dating," according to Nazaree Hines-Starr, "explores the phenomenon of falling in love, except with some common sense."
Nazaree's book concludes that Jewish men "receive extensive training in manhood" and "are often raised with traditional gender roles where the men seek to take care of the women."
"Why Every Black Woman Should Marry A Jewish Man," by Nazaree Hines-Starr is available in paperback on 
Amazon.com
 and for 
Kindle
 tablets, and at 
barnesandnoble.com
.    
About Nazaree Hines-Starr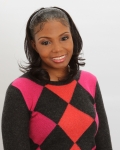 Dr. Nazaree Hines-Starr, PharmD is a full time pharmacist and author living in Annapolis, Maryland with her Jewish husband, Michael. Hines-Starr was inspired to write "Why Every Black Woman Should Marry A Jewish Man" after finding true love with her Jewish husband.
Nazaree received her undergraduate degree from Ohio State University and her Doctorate in Pharmacy from Howard University's College of Pharmacy. Nazaree Hines-Starr, 41, and her Jewish husband, Michael Starr, 39, are raising their son Hayden "culturally Jewish," according to the author.
Contact:
Author Dr. Nazaree Hines-Starr
Allison Kugel
212-537-9236
www.FullScaleMedia.com
Source: 
http://www.pr.com/press-release/532451