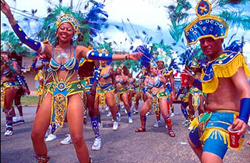 people are looking for experiences that enrich their understanding of the world and the people around them
SAN IGNACIO, BELIZE (PRWEB) JULY 13, 2016
In a first for Belize tourism, The Lodge at Chaa Creek is offering a weeklong, all-inclusive Belize vacation package that takes guests on a cultural tour spanning Belize's eclectic, multicultural society and the country it calls home, Chaa Creek general manager Bryony Fleming Bradley announced recently.
"There's a growing number of travellers who are looking for experiences that enrich their understanding of the world and the people who inhabit it; who want to return home better informed and richer for the experience. Our Cultural Grand Tour is a response to that trend," Ms Bradley said.
Chaa Creek's eight day/seven nights Belize Cultural Grand Tour is an all-inclusive vacation package that combines a full Belizean holiday with an in-depth, hands-on exploration of the country's different cultures and the way in which they have combined to create the unique melting pot that is contemporary Belize, Ms Bradley explained.
During the week, visitors will travel from inland jungles, mountain pine ridge highlands and lush pasturelands to Belize's Caribbean coast while staying at two of the country's most casually luxurious and culturally attuned resorts; The Lodge at Chaa Creek and Villa Verano Luxury Beachside Villas. Along the way they will learn how chocolate is cultivated, produced and enjoyed as it has been for millennia by Belize's Maya, how to make corn tortillas and learn other traditional skills such as weaving and pottery making in the Mestizo village of San Antonio, making ice cream, cheese and other dairy and agricultural products with German speaking Mennonites, and enjoy a Garifuna cultural immersion in the seaside village of Hopkins on Belize's Caribbean coast.
Ms Bradley said the idea for the tour grew out of visitors' comments and queries.
"People are always commenting on how amazingly diverse Belizean society is, and how much everyone gets along. Right here at Chaa Creek they hear English, Mayan, Spanish, Garifuna, Creole and occasionally German spoken, and they wish to learn more about how this came to be," Ms Bradley said.
"It's such a rich, interesting history that we decided to build a vacation package around Belize's cultures, and the initial response was enthusiastic," she added.
"The story of the Garifuna, for example, never fails to captivate people. African survivors of a slave ship wreck who swam ashore to St Vincent's island in 1600s and mixed with the local indigenous Arawaks to produce a unique culture with their own language, customs, music and food before being exiled by British colonialists to an island off Honduras, and then making it ashore to establish villages up and down the coast, not only surviving but thriving in Belize, Guatemala, Honduras and Nicaragua? It's no wonder that in 2001 UNESCO declared Garifuna language, dance and music to be a 'Masterpiece of the Oral and Intangible Heritage of Humanity'.
"That's just one story of one Belizean cultural group, one thread in the cultural tapestry of Belize, and it makes you appreciate why our entire history is so fascinating," Ms Bradley said.
Ms Bradley said the influences of the Lebanese, Middle-Eastern, West Indian, Asian, European and North Americans will also be apparent while travelling from the Cayo district of western Belize to the sandy Placencia peninsula on Belize's Caribbean coast.
"The tour will also feature all the elements of a very satisfying vacation with eco-luxe accommodation, exquisite dining and a whole range of activities that include exploring the Maya ceremonial site and temple pyramid of Xunantunich, canoeing down the Macal River, zip lining through a jungle canopy, visits to the Belize Zoo, the refreshing Rio On natural pools and more," Ms Bradley said.
While at Chaa Creek guests will enjoy fine dining featuring farm-to-table cuisine from the onsite Maya organic farm, an infinity pool, guided birding and nature walks with visits to the onsite Belize Natural History Museum, Maya medicinal plant trail and all the other activities and amenities housed within the eco-resort's 400 acre private nature reserve. Options such as a professional Hilltop Spa are also available, she said.
The second half of the tour offers three-days of Garifuna cultural immersion during a seaside Caribbean holiday in Hopkins village at Villa Verano, a luxury beachfront hotel featuring a large seaside pool and a fully equipped, air-conditioned gym and a rooftop games room as well as a barbecue, hot tub and a rooftop sitting area. Bicycles, kayaks, paddleboards and a catamaran are also available for guests, Ms Bradley added.
"We've worked carefully with many people and groups to design a unique and very interesting vacation package that we're proud to offer," Ms Bradley said.
The Chaa Creek Cultural Grand Tour is an all-inclusive, eight day, seven night Belize vacation package that contains all accommodation, meals, activities, transfers and everything else including government taxes and staff gratuities at both resorts for one affordable set price, Ms Bradley said, with alcohol drinks, fine wines and specialty drinks available as extras.
Further details can be had and bookings arranged at travel agents or directly through Chaa Creek, she added.
"We're hoping that, by getting to know villagers and other Belizeans and taking part in activities that highlight Belize different cultures and the ways in which they blend to create such a peaceful, harmonious society, our visitors will come away with a deeper understanding and appreciation of not only Belize, but today's increasingly multicultural world," Ms Bradley said.
The Lodge at Chaa Creek is a multi award winning eco resort set within a 400-acre private nature reserve along the banks of the Macal River in Belize.
ENDS