Kauli Launches Tanzanian Artisan Handbag Line on Amazon
Stylish, evocative and uniquely African, Kauli handbags are designed to show the world how beautiful Africa's crafts can be.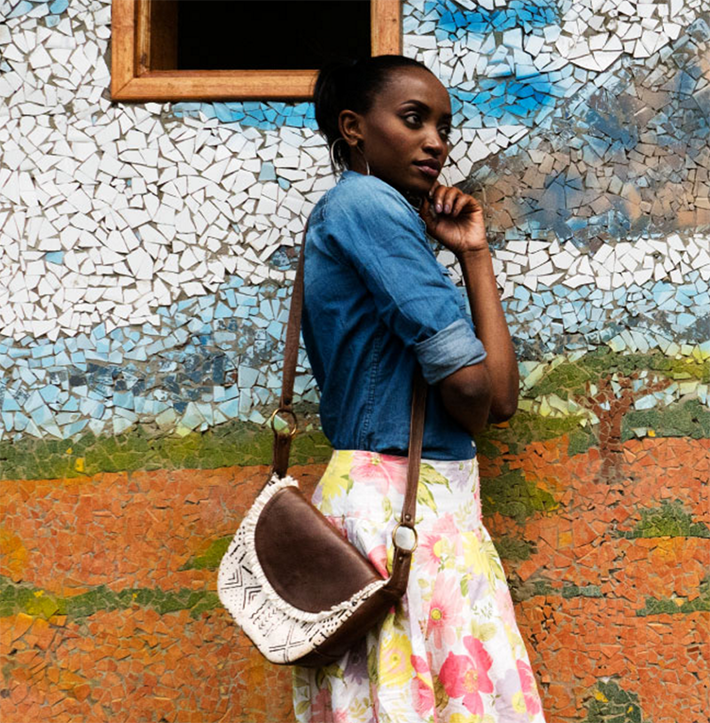 Kauli announces the launch of its new line of artisan-crafted handbags from Moshi, Tanzania, on Amazon.com. Vividly colored and patterned, each exclusive handbag is made from high quality Tanzanian leather and other unique African materials including bògòlanfini, handmade Malian cotton mud cloth, a symbol of traditional African culture that is being exported worldwide for use in fashion, fine art and décor.
Handcrafted by 15 artisans in the slopes of Mount Kilimanjaro, each handbag design merges elements of African culture, aesthetics and functionality into meaningful, beautiful, and usable products. Textiles are one of Africa's richest sources of artistry, and the Kauli collections include some of the most striking woven, died and printed fabrics to produce these exclusive handbags, sometimes using centuries-old methods.
Kauli carefully sources some of the most characteristic antique, vintage and contemporary pieces from North, East, South, West and Central Africa to build its two highly limited collections: the Signature series and the Select series.
The Kauli Signature Series utilizes fabric selections that represent the core aesthetic of the brand within two seasonal release periods, "the rainy season" (spring and summer), and "the dry season" (fall and winter). The Select Series is reserved for extremely rare, typically vintage fabrics that can only be purchased directly from the company's Moshi workshop or by special request through an official distributor.
Skilled craftspeople combine the traditional fabrics with Tanzanian-produced leather, safari-grade canvas and customized brass hardware to create each one-of-a-kind bag using design and production techniques that honor the region's cultural heritage.
Stylish, evocative and uniquely African, Kaui handbags are designed to show the world how beautiful Africa's crafts can be.
Kauli is an ethical fashion workshop based in Moshi in northern Tanzania. As a social enterprise, the company applies commercial strategies to maximize improvements in human and environmental well being, rather than maximizing profits for external shareholders.
To view the line of handbags, visit the Amazon.com Kauli storefront. To learn more about the company, visit the Kauli USA website, email info(at)kauli(dot)co, or call +1 540.797.0914.
About Kauli:
Jared Jessup, Managing Director and Creative Director of KiliKauli Ltd., founded Kauli in February, 2013 as an ethical boutique fashion brand rooted in Moshi, Tanzania.
Kauli's design work celebrates the wide array of cultural and creative features on the African continent. Each product mirrors the quality of the artisan-crafted materials and the capability of local craftspeople, who transform them into items people wear and carry. Named for the Swahili word for "voice from within," Kauli is well suited for artistic presentation. Fashion has the unique ability to allow the wearer to control his or her most immediate presentation to the world.
Anza, a Moshi-based social business incubator founded by Krupa Patel, was the first to invest in Kauli's start-up and to assist in setting up its business structure, which places Kauli workers first, without compromising the quality of the products. The support of Anza and the early success of Kauli's opening in Tanzania attracted the attention of Hooge Raedt Social Venture, B.V., an impact investor focusing on early stage, high impact social enterprises in Tanzania and Kenya. In June, 2014, with HRSV as a new partner, Kauli officially opened in Tanzania.
Kauli items are assembled by a team of talented women from both urban and rural settings around Mount Kilimanjaro. Along with earning a stable income, these women further benefit from courses in entrepreneurship and craftsmanship provided by Anza that enables them to move forward independently. The Kauli program then acts as an income generator to expand and strengthen the scope of future initiatives.
Kauli was named the Accessory Designer of the Year, Swahili Fashion Week 2015.
MOSHI, Tanzania (PRWEB) May 11, 2016
###