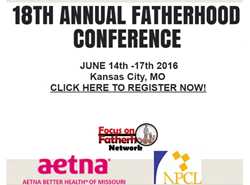 The 2016 International Fatherhood Conference will engage attendees in reflective yet forward looking discussions and workshops on evidenced based and evidence-informed practices, and, policies and research findings that are leading to advances in the responsible fatherhood field.
18th Annual International Fatherhood Conference Convenes in Kansas City, Missouri
Top local, state and federal leaders in children and family services will gather with hundreds of parents, students, practitioners, researchers and policymakers at the International Fatherhood Conference, June 14-17, Kauffman Foundation Conference Center, Kansas City, MO. This is the 18th time the Washington D.C. based nonprofit organization, The National Partnership for Community Leadership (NPCL) has sponsored the international conference which highlights the important role fathers' play in the lives of children. The host for this year's conference is the Focus on Fatherhood Network, a coalition of nonprofit and faith-based organizations committed to strengthening father engagement in the state of Missouri. This year's conference theme is "Strengthening Parent Relationship Assets to Improve the Well-Being of Children." The conference will focus on solution based policies, research, and practices that enhances the engagement of both parents in the lives of children. According to recent census data, families are changing and more than 24 million children are without fathers in their lives which increase the risk of school failure, juvenile delinquency, and early pregnancy among our youth. In a joint statement Dr. Jeffery Johnson, President of NPCL and Reverend Charles Stephenson, spokesperson for the Focus on Fatherhood Network, state that when fathers are actively involved and engaged children's verbal and reading skills improve, enjoy school more, and are least likely to drop out or get into trouble.
The conference will start on Tuesday June 14 with a pre-conference session focused on evaluating fatherhood programs. The pre-conference session is being facilitated by the Fatherhood Research Practice Network. Pre-conference activities will also include the celebration of more than 50 fathers as Favorite Fathers of Missouri and Kansas.
Scheduled speakers at the conference include top local and federal and who's who among researchers, and practitioners in the field of children and family services including Congressman Emanuel Cleaver II, U.S. Representative, 5th District, Missouri, Federal Commissioner of Child Support, Vicki Turetsky, Missouri Governor, Jeremiah "Jay" Nixon, Kansas Governor, Sam Brownback, and Bishop Anthony B. Johnson, Presiding Prelate, Embassy International Ministries. (See Attached Conference Agenda).
In the past, the conference has served as a platform to introduce new fatherhood policies at federal, state, and local levels, launch innovative programs, research reports, and strategies for keeping the nation's attention on the importance of fathers.
*Dr. Jeffery Johnson
Dr. Jeffery M. Johnson is the President and CEO of the National Partnership for Community Leadership (NPCL). As a national intermediary organization, the mission of NPCL is to strengthen the capacity of nonprofit organizations and community-based agencies to provide services to families and communities. Dr. Johnson is a nationally recognized authority in the areas of leadership, employment training, urban poverty and youth employment. Dr. Johnson played a principal role in the passage of the first national fatherhood legislation, The Fathers Count Bill, passed by the United States Congress. A particular focus of Dr. Johnson's work has been on the plight of African-American men and families. Dr. Johnson has appeared on CNN, C-SPAN, Fox Morning News Show, NBC Nightly News, The State of Black America forum, and the National Black Network News. He is the author of several publications including, Fatherhood Development: A Curriculum for Young Fathers.
According to recent census data compiled by the U.S. Department of Health and Human Services:
Fatherless Homes Create a Negative Cycle
24 million children in America live apart from their fathers.
Boys who grow up without fathers are more likely to become unmarried fathers themselves at a young age, perpetuating the cycle of absentee fatherhood.
Girls growing up without fathers are more likely to fall victim to early sexual involvement and teenage pregnancy, perpetuating the cycle of single-parenthood.
Children from Fatherless Homes are:
5 times more likely to commit suicide.
32 times more likely to run away.
20 times more likely to have behavioral disorders.
14 times more likely to commit rape.
9 times more likely to drop out of school.
10 times more likely to abuse chemical substances.
9 times more likely to end up in a state operated institution.
20 times more likely to end up in prison.
Responsible Fatherhood: Makes a Difference for Children
Emotional security, curiosity, and enhanced math and verbal skills;
Fewer behavioral problems, higher levels of sociability; improved school performance and reduced involvement with the criminal justice system.
Higher school grades, greater school enjoyment, and lower chances of suspension, expulsion, and dropping out of school.
Girls with a positive father/daughter relationship do better academically, and are less likely to engage in early sexual involvement and in the use of alcohol and drugs.
Kansas City, Missouri (PRWEB) May 28, 2016