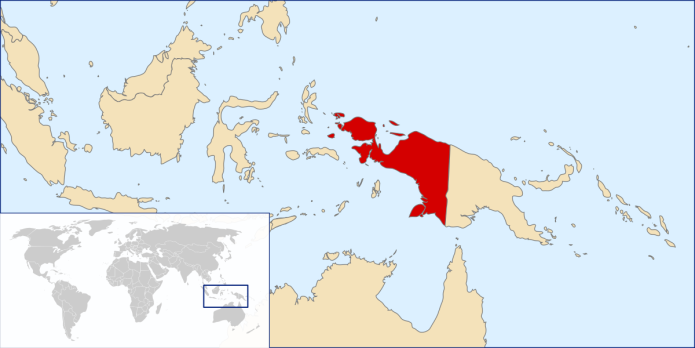 [Oxford, UK] Today – Wednesday 20 March 2019 – a new crowdfunding campaign was launched to assist in the creation of a new nation state – West Papua. The Free West Papua campaign is asking for donations to deliver the largest hand-signed petition in modern history (1.8 million West Papuans - 70% of the population) to the United Nations General Assembly in September 2019. The petition asks the UN for an internationally supervised vote for independence from Indonesia which is occupying West Papua.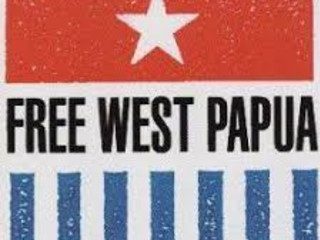 Two copies of the petition have already been delivered to United Nations: in 2017, a copy was presented to the United Nations Decolonisation Committee; and in 2019 another copy was presented to the United Nations High Commissioner for Human Rights. The third will be presented in September to the UN General Assembly in New York. Three presentations ensure the process of recognition is completed.
The petition, the largest hand signed petition in modern history and resides in the UK with members of the democratically elected leadership of West Papua – The United Liberation Movement of West Papua.
The Indiegogo campaign aims to raise at least £10,000 in 59 days – ending on 17 May 2019 - for a delegation to deliver the petition to the UN General Assembly. There are various perks for differing donations: flags, t-shirts and CD's of West Papuan music from the Lani Singers.
Benny Wenda, founder of the Free West Papua Campaign and Chair of The United Liberation Movement for West Papua said:
"My people had to organise secretly and sacrifice their lives to sign this petition for our freedom from Indonesian occupation. The voices of 1.8 million Papuans need to be heard by the United Nations."
George Monbiot, author and journalist said:
"At great risk to themselves, West Papuan people have collected an extraordinary number of signatures, demonstrating the powerful desire for an end to Indonesian occupation, and the independence that is their legal right. We can and should help them to achieve it."
ENDS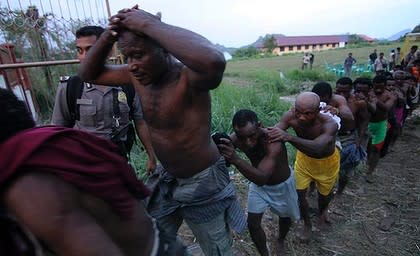 West Papuan civilians are led away like slaves after being arbitrarily detained following a peaceful meeting.
Contact: Free West Papua Spokesperson +44 (0) 77 533 76322
EDITORS NOTES
The Indiegogo fundraising campaign is here: https://www.indiegogo.com/projects/free-west-papua--2#/
West Papua is the western half of the island of New Guinea, bordering the independent nation of Papua New Guinea. It lies just 200 km north of Australia. Since its invasion by Indonesia over 50 years ago, West Papua is subject to the longest running military occupation and has been subjected to a never ending catalogue of extreme human rights violations, including genocide – estimated 500,000 killed, by the Indonesian security forces.
The Free West Papua Campaign is a peaceful public campaign engaged in grassroots organising as well as high level lobbying. We promote and protecting the democratic rights of West Papuans.The campaign began in 2004 by West Papuan exile Benny Wenda. He peacefully campaigns for an end to the Indonesian occupation of West Papua. He was arrested and tried on false charges by Indonesian authorities. Subsequently, he was granted political asylum in the UK and settled in Oxford where he lives with his family. He is Chair of the United Liberation Movement for West Papua (www.ulmwp.org) which was founded in December 2014 to bring together groups in West Papua for independence.
PICTURE EDITOR NOTES
Digital photographs showing the presentations of the 1.8 million petition to United Nation bodies in 2017 and 2019 are available on request.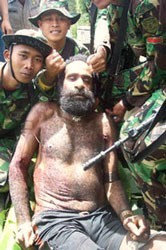 Indonesian soldiers pose for a 'trophy photo' with the body of West Papuan tribal elder,Yustinus Murib, moments after murdering him.
SOURCE:
FREE WEST PAPUA CAMPAIGN
Web: www.freewestpapua.org Tel: +44 (0) 77 533 76322 E: andrew@freewestpapua.org
office@bennywenda.org
Wednesday 20 March 2019